Ancient America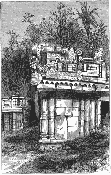 By John D. Baldwin
AUTHOR OF "PRE-HISTORIC NATIONS."
Originally published in 1871.
The purpose of this volume is to give a summary of what is known of American Antiquities, with some thoughts and suggestions relative to their significance. It aims at nothing more. No similar work, I believe, has been published in English or in any other language. What is known of American Archaeology is recorded in a great many volumes, English, French, Spanish, and German, each work being confined to some particular department of the subject, or containing only an intelligent traveler's brief sketches of what he saw as he went through some of the districts where the old ruins are found. Many of the more important of these works are either in French or Spanish, or in great English quartos and folios which are not accessible to general readers, and not one of them attempts to give a comprehensive view of the whole subject.
Therefore I have prepared this work for publication, believing it will be acceptable to many who are not now much acquainted with the remains of Ancient America, and that some who read it may be induced to study the but as Ancient America covers all time previous to the discovery by Columbus, they may not be deemed out of place. Materials for the paper on "Antiquities of the Pacific Islands" came to me from the Pacific World while I was preparing the others. The discovery of the Pacific is so intimately connected with the discovery of America, that this paper would not be out of place even if the Mexican and Peruvian traditions did not mention that a foreign people communicated with the western coast of America in very ancient times.
Worcester, Mass., November, 1871.
******
Note from D J McAdam: Ideas and concepts continually change and face revision in any discipline, and archaeology is no exception. The information presented here is over one hundred years old. We are not presenting it as fact, but as a look at what some archaeologists believed, or were at least willing to discuss, back in the late 1800's. Particularly interesting in this regard are Baldwin's references to Atlantis, and an Atlantean theory (or an Atlantic theory, as he would have it) of ancient American settlement. If you have a serious interest in Atlantis, you will find those sections of this work dealing with that question fascinating. Regarding the rest of the work, what American should not be interested in the ancient history of this land? And, while we're asking questions, did the Welsh discover America?
******
CONTENTS.