A (Very) Brief Bio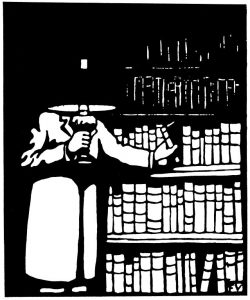 D. J. McAdam was an acquirer of books before he learned to read (which made tidiness in the room he shared with his brother a bit challenging), and became a more-or-less serious collector somewhere around the age of eighteen. Although college – a Bachelor's in Literature in English from the University of the State of New York – and the demands of a full-time career in the telecommunications industry sometimes left little time for this pursuit, he managed to remain an active collector, and could often be found haunting bookshops and hunting books during his lunch breaks in New York. In 1998 he left the world of big business and entered the world of (very) small business when he opened Wooden Horse Books, an antiquarian bookstore in Poultney, Vermont, which he managed for several years. This website was started around that same time.
The bookstore, which had an active philatelic literature section as well as a large area devoted to games and playing cards, was closed in 2007 when Mr. McAdam accepted a position with the United States government. That decision required that he relocate – first to Washington, DC, then to Albuquerque, New Mexico and, finally, to southern Arizona, where he currently resides. Mr. McAdam eventually retired from government service and is now the Managing Member of Sonora Stamp Shop, a collectible stamp dealership.
Why Are There So Many Odd (or Oddly Interesting) Things on This Website?
When one has had a website since 1997, one ends up with a lot of information. We rarely remove a page, on the theory that someone, somewhere may still be interested in the information it contains. The reason for the information on book collecting is readily understood. Since Mr. McAdam once owned a business that also dealt in things like mystery party games, jigsaw puzzles and playing cards, you'll also find information related to those subjects. The category of "playing cards" also included tarot cards and fortune-telling cards, which also led to writings on folklore, which led to . . . one could go on, but one is sure the idea has been conveyed. And how could anyone interested in books not have articles on literature on their website?
Need to get in Touch?
Please visit our handy contact page.