Christmas Traditions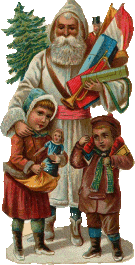 In the early days of our website, we had one page relating to Christmas, which is now called our Christmas Poetry page. Some time later, we added a second page, with the text of Francis P. Church's famous letter, Yes, Virginia, There Is a Santa Claus.
Could we – should we – have stopped there? No, of course not. Christmas has been, and I hope always will be, my favorite time of the year. This does not mean that I'm a sentimental old fool.
It is, in fact, men with rough dispositions and hardened hearts who most need, and perhaps most appreciate, the Christmas season. Ebenezer Scrooge is the prime example in this case, but there are certainly others. Francis Church, mentioned above, was, according to his colleagues, one of the least sentimental persons one could find working at a newspaper, and newspapers are not known for having an overabundance of sentimental workers. I would also direct readers to Henry C. Walsh's poem Santa Claus on the Train, which appears on our main Christmas Poetry page, for a further illustration of "a rough man," sitting apart, who finds himself swept up in the giving spirit of the holiday season through hearing the voice of an innocent child. It is a common theme, and one not diminished by being retold in a variety of fashions.
At any rate, we now have more than two pages on our website devoted to Christmas, and they're all worthwhile – some entertaining, some of a more scholarly, historical interest. For purposes of organization, they are listed here:
Christmas Eve in War Time – A Short Story by E. P. Roe
'Twas the Night Before Christmas
Yes, Virginia, There Is a Santa Claus
The Burden of Christmas, an essay from 1904 about the commercialization of Christmas
And here is a poem by Eugene Field, a well-known book collector as well as a poet and man of letters:
Christmas Hymn
Sing, Christmas bells!
Say to the earth this is the morn
Whereon our Saviour-King is born;
Sing to all men—the bond, the free,
The rich, the poor, the high, the low—
The little child that sports in glee—
The aged folk that tottering go—
Proclaim the morn
That Christ is born,
That saveth them and saveth me!
Sing, angel host!
Sing of the star that God has placed
Above the manger in the east;
Sing of the glories of the night,
The virgin's sweet humility,
The Babe with kingly robes bedight—
Sing to all men where'er they be
This Christmas morn,
For Christ is born,
That saveth them and saveth me!
Sing, sons of earth!
O ransomed seed of Adam, sing!
God liveth, and we have a King!
The curse is gone, the bond are free—
By Bethlehem's star that brightly beamed,
By all the heavenly signs that be,
We know that Israel is redeemed—
That on this morn
The Christ is born
That saveth you and saveth me!
Sing, O my heart!
Sing thou in rapture this dear morn
Whereon the blessed Prince is born!
And as thy songs shall be of love,
So let my deeds be charity—
By the dear Lord that reigns above,
By Him that died upon the tree,
By this fair morn
Whereon is born
The Christ that saveth all and me!