Christmas Poetry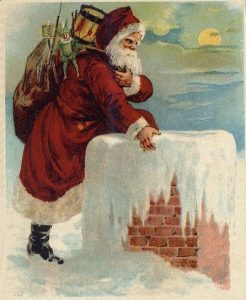 Here's a page designed to put you in the Christmas spirit! Great Christmas poems from days gone by, some advice on holiday coping, and even an explanation of "wassail!"
We'll start with "A Letter to Santa Claus" originally intended for a girl to give as a school recitation at a Christmas programme. It is taken from The American Speaker and Writer, circa 1908. We find it both charming and thought-provoking, and hope you will, too.

A Letter to Santa Claus
Blessed old Santa Claus! King of delights!
What are you doing these long winter nights?
Filling your budgets with trinkets and toys –
Wonderful gifts for the girls and the boys?
While you are planning for everything nice,
Pray let me give you a bit of advice.
Don't take it hard, if I say in your ear,
Santa, I think you were partial last year;
Loading the rich folks with everything gay,
Snubbing the poor ones who came in your way:
Now, of all times in the year, I am sure,
This is the time to remember the poor.
Little red hands that are aching with cold,
You should have mittens your fingers to hold;
Poor little feet, with your frost-bitten toes,
You should be clothed in the warmest of hose.
On the dark hearth I would kindle a light,
Till the sad faces were happy and bright.
Don't you think, Santa, if all your life through,
Some one had always been caring for you,
Watching to guard you by night and by day,
Giving you gifts you could never repay,
Sometimes, at least, you would sigh to recall
How many children have nothing at all?
Safe in your own quiet chamber at night,
Cozy and warm in your blankets so white,
Wouldn't you think of the shivering forms
Out in the cold and the wind and the storms?
Wouldn't you think of the babies who cry,
Pining in hunger and cold till they die?
Blessed old Nick! I was sure, if you knew it,
You would remember, and certainly do it;
This year, at least, when you open your pack,
Pray give a portion to all who may lack;
Then if you chance to have anything over,
Bring a small gift to your friend – Kitty Clover.
What is Twelfth Night?
Twelfth Night occurs twelve days after Christmas, and is the traditional time for decorations to be taken down, marking the end of the Christmas season. Traditionally, a Twelfth Night cake was eaten on the occasion (probably the invention of my ancestors – any excuse to have cake!), which the French refer to as galette des rois.
Santa Claus On the Train
by Henry C. Walsh
On a Christmas Eve an emigrant train
Sped on through the blackness of night,
And cleft the pitchy dark in twain
With the gleam of its fierce headlight.
In a crowded car, a noisome place,
Sat a mother and her child;
The woman's face bore want's wan trace,
But the little one only smiled,
And tugged and pulled at her mother's dress,
And her voice had a merry ring,
As she lisped, "Now, mamma, come and guess
What Santa Claus'll bring."
But sadly the mother shook her head,
As she thought of a happier past;
"He never can catch us here," she said.
"The train is going too fast."
"O, mamma, yes, he'll come, I say,
So swift are his little deer,
They run all over the world today; –
I'll hang my stocking up here."
She pinned her stocking to the seat,
And closed her tired eyes;
And soon she saw each longed-for sweet
In dreamland's paradise.
On a seat behind the little maid
A rough man sat apart,
But a soft light o'er his features played,
And stole into his heart.
As the cars drew up at a busy town
The rough man left the train,
But scarce had from the steps jumped down
Ere he was back again.
And a great big bundle of Christmas joys
Bulged out from his pocket wide;
He filled the stocking with sweets and toys
He laid by the dreamer's side.
At dawn the little one woke with a shout,
'Twas sweet to hear her glee;
"I knowed that Santa Claus would find me out;
He caught the train you see."
Though some from smiling may scarce refrain,
The child was surely right,
The good St. Nicholas caught the train,
And came aboard that night.
For the saint is fond of masquerade
And may fool the old and wise,
And so he came to the little maid
In an emigrant's disguise.
And he dresses in many ways because
He wishes no one to know him,
For he never says, "I am Santa Claus,"
But his good deeds always show him.
What Does "Wassail" Mean?
"Wassail" is one of those words that one comes across occasionally at Christmastime, and for one reason or another never gets around to looking up. Basically, it's a toast or pledge, sort of the equivalent of "to your health." Tennyson refers to this usage in The Princess when he writes "We did but . . . pledge you all in wassail." The origin of the word goes back to Middle English and Old Danish.
The Christmas connection is not hard to deduce, as Christmas is often a time to drink to each other's health, and actually the word was used in its verb form to drink to prosperity in general as well. There's an old custom on Christmas Eve of wassailing the apple, and pledging did not stop at this noble fruit. Herrick, in his Hesperides, Ceremonies for Christmas, records the following toast:
"Wassaile the Trees, that they may beare
You many a Plum, and many a Peare;
For more or less fruits they will bring,
As you doe give them Wassailling."
Related terms include:
Wassail-bowl – The bowl in which wassail (i.e, drink) was mixed and served.

Wassail-bread – Bread eaten at a wassail (i.e., a celebration in which pledging was done).

Wassail-candle – A candle used at a wassail.

Wassail-cup – A cup from which wassail was drunk.

Wassail-horn. A drinking horn
More Christmas Poetry
A nice idea for the holidays, doesn't cost a dime, guaranteed to put you in the right Christmas spirit: have every member of your family (or everyone in your group of friends) select a poem about Christmas, and organize a Christmas poetry reading some time before the big day. Have one person coordinate the readings, so you don't all show up with the same poem!
Food is always welcome at holiday gatherings, but for a Christmas poetry reading you don't need to go overboard. Eggnog is always a good idea, with or without spirits as your tastes dictate.
Children can – and should! – participate in the Christmas poetry reading. It's a great way to expose children to poetry in a fun, non-academic setting. I've offered a few poems below to get you started, but the fun is in the hunt, so use these only as a last-minute fall-back.
Merry Christmas!
Anonymous
Merry Christmas to friends!
Merry Christmas to foes!
The world's bright with joy, so
Forget all your woes.
The earth's full of beauty, of
Love and good cheer.
Merry Christmas to all and a
Happy New Year!
Christmas
by Lalia Mitchell
O merry is the Christmas time
With holly berries bright,
With festal board and treasure stored
In stockings soft and white.
And blessed is the Christmas time
With music such as rang
A glorious strain o'er Bethlehem's plain
When angel voices sang.
O, joyful is the Christmas time,
Each heart from grief beguiled,
But all the year hath a Christmas cheer
For him that loves a child.
(From an old newspaper clipping found in an old book.)
Christmas Classics
Dickens, Charles – A Christmas Carol. This is such a great story and, come on, you've seen all those animated adaptations (though I like Mr. Magoo…), so read the book. It's short, and it's a nice Christmas tradition. Better yet, have you and your loved one(s) take turns reading it to each other.
Henry, O. – The Gift of the Magi (short story).
Does Santa Claus really exist? Read Francis P. Church's famous editorial, "Yes, Virginia, There Is a Santa Claus," and decide for yourself.
Want more Christmas poetry? How about an old favorite, "The Cowboy's Christmas Ball?"
Mistletoe
"On Christmas Eve it was lately the custom at York to carry mistletoe to the high altar of the Cathedral, and to proclaim a public and universal liberty, pardon and freedom to all sorts of inferior and even wicked people at the gates of the city towards the four quarters of heaven."
— W. Winwood Reade, The Veil of Isis; or, Mysteries of the Druids (1861)
Christmas Hobbies
There's nothing wrong with trying to keep the spirit of Christmas in one's heart all year long, and while your neighbors would probably not appreciate you leaving your lights up all year, there are other ways. Collecting things related to Christmas – books, decorations, snow globes, etc. – comes to mind.
As for stamp collecting, the American Topical Association estimates that there are over 6,400 postage stamps related to Christmas.