Will the Circle Be Unbroken – Trilogy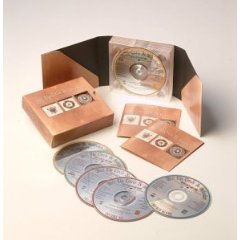 A Review, by D. J. McAdam
It should have been easy for me to buy the 5-CD, 1-DVD Will the Circle Be Unbroken Trilogy Set, and it would have been, but for the fact that I already owned Will the Circle Be Unbroken, Volume III. Why buy something you already own?
I'll back up. The first time I heard the Nitty Gritty Dirt Band was back in 1970, when they had a hit version of Jerry Jeff Walker's "Mister Bojangles." The band had existed before that time, but they were out of California and I was in New York, and I'd never heard of them. That happened a lot, back then.
Another thing about that time that I should probably explain is that there was such a thing, more or less, as "country rock," which was sometimes indistinguishable from folk rock. The Byrds mostly fit into a country rock category, the Grateful Dead sometimes did (think "Big River"), the Mamas and the Papas were closer to folk rock, and so on. Musical categories weren't so rigid, which was a good thing, and the Nitty Gritty Dirt Band obviously fit in somewhere.
In 1972, the band went to Nashville and asked a bunch of country old-timers to cut a (huge!) triple record with them, which was called Will the Circle Be Unbroken. It was a great idea – hippies alongside old country music stars – and had folks on it like Roy Acuff, Earl Scruggs, Doc Watson, and Mother Maybelle Carter. This triple record was eventually released in CD format as a double CD.
Between 1972 and 1989 a lot happened to a lot of folks – for one thing, I went from being a teenager to a guy in his mid-thirties – but, more relevant to our story, the Nitty Gritty Dirt Band at some point in there changed their name to The Dirt Band, and then back again. And, in 1989, the band recorded Will the Circle Be Unbroken, Volume II. Guests on the album included John Denver, Emmylou Harris, and Ricky Skaggs.
Volume III was recorded 30 years after Volume I, in 2002. This is the double CD I already owned and had grown to love, with guests on it like Alison Krauss, Dwight Yoakam, Willie Nelson, Earl Scruggs, and Vince Gill.
So what I really needed was to buy Volumes I and II, right?
I could have, but, for the same amount of money, I could get the Trilogy Set, which had everything I needed (and more), because it had Volume I, II, and III, and a concert DVD of some performances from Volume III.
So I bought the Trilogy Set, and it's one of the best CD purchases I've made in a long time. I even made time to watch the DVD, which is well worth seeing.
Available on Amazon: