United States Christmas Stamps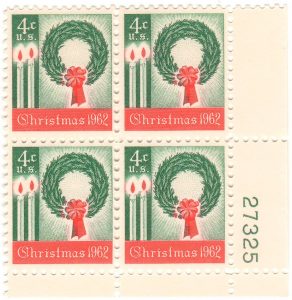 The United States Post Office Department issued its first Christmas stamp in Pittsburgh, Pennsylvania, on November 1, 1962. Customers had requested such a stamp for years, Postmaster General J. Edward Day said during the stamp dedication ceremony, adding that the stamp would be the first in a series of Christmas stamps.
Stamps that conveyed a holiday spirit had proved popular during the holidays in previous years, such as the 1958 Forest Conservation stamp showing a deer in a clearing in the woods and the 1960 stamp showing a stylized green tree resembling a fir, commemorating the 5th World Forest Congress. Anticipating a huge demand for the new Christmas stamp, the Department ordered 350 million printed – the largest number produced for a special stamp until that time. The green and red four-cent stamps featured a wreath, two candles, and the words "Christmas 1962". The initial supply sold out quickly, and the Bureau of Engraving and Printing began working around the clock to print more. By the end of 1962 one billion of the stamps had been printed and distributed.
The decision to print a Christmas stamp encountered some controversy, especially from groups concerned about maintaining the separation of church and state, although legal actions to bar the stamps were not successful.
The Postal Service recognized other special holidays when it issued its first Hanukkah stamp in 1996, followed in 1997 by its first Kwanzaa stamp, and in 2001 by the Eid stamp.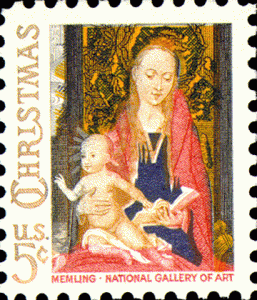 Looking for stamps for your collection? Be sure to check out Sonora Stamp Shop.