The Old West Time-Life Series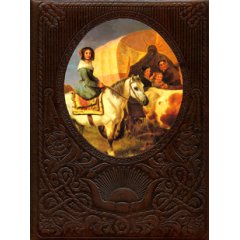 By DJ McAdam. ©
Back in the late 1980's, I bought a used set of Time-Life Books, called "The Old West." There were thirteen volumes and, strange to say, I didn't give any thought as to whether or not the set was complete. Time-Life series books can usually stand on their own as individual volumes, which perhaps explains my lack of concern.
Recently I've looked at the books with renewed interest. Having moved from the East Coast to New Mexico, I find remnants of the Old West all around me. Consequently, the question of completeness became one worth researching. Turns out my set was not complete – there are actually twenty-six (!) volumes, plus a staple-bound Master Index – but, being more or less halfway there, completing the series seems a worthwhile goal. Thus far, I've had decent luck finding needed copies on Amazon, buying a couple at a time.
The books themselves are quite nice. With the exception of the Master Index, they're bound in brown leather or leatherette (best guess – bonded leather) that's made to look like it's tooled, and have pictorial covers.
For those interested, here's a list of books in the series, arranged alphabetically by title:
| | |
| --- | --- |
| Title | Author |
| Master Index | |
| The Alaskans | Keith Wheeler |
| The Canadians | Ogden Tanner |
| The Chroniclers | Keith Wheeler |
| The Cowboys | William H. Forbis |
| The End and the Myth | Paul O'Neill |
| The Expressmen | David Nevin |
| The Forty-Niners | William Weber Johnson |
| The Frontiersmen | Paul O'Neill |
| The Gamblers | Robert Wallace |
| The Great Chiefs | Benjamin Capps |
| The Gunfighters | Paul Trachtman |
| The Indians | Benjamin Capps |
| The Loggers | Richard Williams |
| The Mexican War | David Nevin |
| The Miners | Robert Wallace |
| The Pioneers | Huston Horn |
| The Railroaders | Keith Wheeler |
| The Ranchers | Ogden Tanner |
| The Rivermen | Paul O'Neill |
| The Scouts | Keith Wheeler |
| The Soldiers | David Nevin |
| The Spanish West | William H. Johnson |
| The Texans | David Nevin |
| The Townsmen | Keith Wheeler |
| The Trailblazers | Bil Gilbert |
| The Women | Joan Swallow Reiter |