Thanksgiving Postage Stamp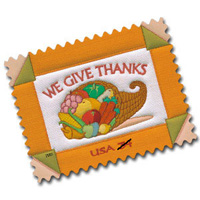 The United States issued a quaint and attractive postage stamp for Thanksgiving in October, 2001. The following information is taken from a press release issued by the US Postal Service at that time.
Since 1863, when President Abraham Lincoln issued a Proclamation of Thanksgiving, the fourth Thursday of every November has been set aside as a special day for families in the United States to give thanks. (A previous Thanksgiving Proclamation had been issued by the Continental Congress in 1782.)
"The Thanksgiving stamp provides a meaningful way for Americans to honor the tradition of being thankful for the many blessings we have as American citizens," said Einar Dyhrkopp, a member of the presidentially appointed Postal Service Board of Governors, who dedicated the stamp.
The U.S. Thanksgiving holiday stems from a rich history of celebrations. The best known of these is the first harvest festival at Plymouth, Mass., where in Autumn 1621 some 50 colonists and 90 Native Americans gathered for a three-day feast to offer thanks for a bountiful harvest.
Artist Margaret Cusack designed and created the machine-appliqued needlework-a cornucopia of fruits and vegetables, inscribed above with the words "We Give Thanks" – that is featured on the Thanksgiving stamp. The needlework, which is partially quilted and made of old and new fabrics, is reminiscent of American folk art stitchery.

TECHNICAL DETAILS
Issue: Thanksgiving
Item Number: 551000
Denomination & Type of Issue: 34-cent Special
Format: Pane of 20 (1 design)
Series: Holiday Celebrations
Issue Date & City: October 19, 2001, Dallas, TX 75260
Illustrator: Margaret Cusack, Brooklyn, NY
Designer: Richard Sheaff, Scottsdale, AZ
Engraver: N/A
Art Director: Richard Sheaff, Scottsdale, AZ
Typographer: Margaret Cusack, Brooklyn, NY
Modeler: Joseph Sheeran
Manufacturing Process: Offset, Microprinting, "USPS"
Printer: Ashton Potter (USA) Ltd. (APU)
Printed at: Williamsville, NY
Press Type: Stevens, Vari-size Security Press
Stamps per Pane: 20
Print Quantity: 69 million stamps
Paper Type: Nonphosphored, Type III
Gum Type: Self-adhesive
Looking for stamps for your collection? Be sure to check out Sonora Stamp Shop.