Collecting Postal Stationery
By D. J. McAdam.
Collecting postal stationery is a fascinating, and often neglected aspect of philately. Consequently, it is possible to build a very nice postal stationery collection at reasonable cost.

What is "Postal Stationery?"
Postal stationery is defined as government-issued envelopes, aerogrammes, stamped postal cards, and letter sheets with printed or embossed stamp designs.
Most modern Post Offices issue postal stationery, including the United States.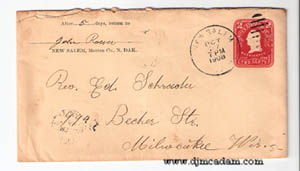 Here's a nice example of an envelope, mailed in 1908 from New Salem, North Dakota. Notice that the postage used is not a stamp, but instead a 2-cent stamp design embossed directly onto the envelope.
To the right, we have an example of an unused postal card from the Indian State of Patiala.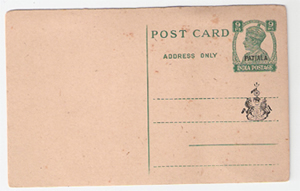 Again, we see that the postage is printed directly onto the postal card, along with, in this case, the Patiala overprint.
You might wonder why we use the term "postal card" when the item clearly reads "post card." Generally, "postal card" is used to distinguish a card issued by a government post office, as opposed to a post card issued by a private commercial firm.
The two examples presented thus far are "entires," that is, intact pieces of postal stationery, in contrast to cut-outs of the printed design. This is by far the preferred method today of collecting postal stationery, and one can quickly see why. In the New Salem example above, a "cut square" would have eliminated the postmark from one's collection. Even if a collector had cut out the postage square with the postmark intact, it still would have left questions, since the postmark states "New Salem" but not "North Dakota." It is the return address that tells us which New Salem we are speaking about. This is significant, because not a great deal of mail moved out of the New Salem, ND post office in 1908. Even today, the town's population is estimated to be less than one thousand. (A digression: the town does now boast the "world's largest statue of a Holstein cow.")
We've discouraged creating any new cut squares – should one bother collecting older ones? It is, like everything in philately, a matter of personal taste. Collecting them provides an interesting philatelic byway to follow, and competition is certainly less fierce than in some other areas of stamp collecting.
Whether one collects postal stationery via entires or cut squares, or both, the area is an interesting one, and sure to offer the occasional joy of discovery.
Looking for stamps for your collection? Be sure to check out Sonora Stamp Shop.