Pokeno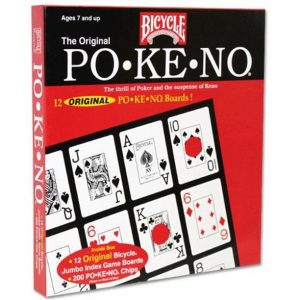 Everything you've ever wanted to know about the game called Pokeno, sometimes called Po-ke-no.
Or more correctly, everything I know about the game Pokeno, which is actually quite a bit.
First, a definition. Pokeno is a game played with special cards, called Pokeno Game Boards, and chips, called Pokeno Chips. The manufacturer says "Pokeno offers the thrill of Poker and the suspense of Keno," and that's pretty much true. It's a very fun game for a group of players, and I've heard (no names here) of people substituting pennies, and sometimes larger coins than that, for the chips.
Pokeno is difficult – at times impossible – to find in stores, so you may have to shop online.
The playing cards pictured on the Game Boards have jumbo indices. The cards themselves are standard, about the size of a sheet of typing paper. There was once some sort of Pokeno for seniors with larger game boards – sorry to say, I don't believe it's still in existence.
This set comes with 12 game boards, and 200 Pokeno chips. I don't believe you can buy extra chips separately any more. Anyway, this set will accommodate up to 12 players, and playing Pokeno with 11 other players can be a lot of fun.
But what if you have more than 12 players? There's no sense in buying 2 Jumbo Pokeno's, because the cards are the same in all boxes. What you need is 1 regular Pokeno set and one set of Pokeno Too. Pokeno Too comes in a blue box, and it has 12 different game boards and 200 chips. With one set of regular Pokeno and one set of Pokeno Too combined, you can have up to 24 players. I don't know any way of accommodating more than 24 players.
There – that's everything I know about the game Pokeno. Hope it's helped, and hope you have fun with the game!