Thomas Lord Macaulay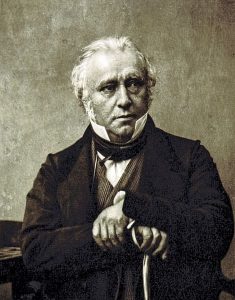 MACAULAY, THOMAS BABINGTON, LORD (1800-1859). —Historian, essayist, and statesman, son of Zachary Macaulay, a wealthy merchant, and one of the leaders of the anti-slavery party, was born at Rothley Temple, Leicestershire, and educated at a private school and at Trinity College, Cambridge, of which he became a Fellow in 1824, and where, though he gained distinction as a classical scholar and debater, he did not take a high degree, owing to his weakness in mathematics. About the time of his leaving the University his prospects were entirely changed by the failure of his father's firm. He accordingly read law, and in 1826 was called to the Bar, which led to his appointment two years later as a Commissioner in Bankruptcy. He had by this time made his first appearance in print, in Knight's Quarterly Magazine, and in 1825 he formed the connection with the Edinburgh Review which redounded so greatly to the fame of both. His first contribution was the famous essay on Milton, which, although he afterwards said of it that "it contained scarcely a paragraph which his matured judgment approved," took the reading public by storm, and at once gave him access to the first society in London, in which his extraordinary conversational powers enabled him to take a leading place.
He now began to turn his mind towards public life, and by favour of Lord Lansdowne sat in the House of Commons for his family borough of Calne. Entering the House in 1830 in the thick of the Reform struggle, Macaulay at once leaped into a foremost place as a debater, and after the passage of the Reform Bill sat as one of the two members for the new borough of Leeds, and held office as Secretary to the Board of Control. The acquaintance with Indian affairs which he thus gained led to his appointment as a member of the Supreme Council of India, whither he went in 1834. Here his chief work was the codification of the criminal law, which he carried out with great ability, and by which he wrote his name on the history of the empire. By the regard for the rights of the natives which he showed, he incurred much ill-will in interested quarters. For this he consoled himself with the pleasures of literature, which gradually assumed the preponderance in his mind over political ambitions. In 1838 he returned to England. The next year he began The History of England, but for some time to come his energies were still divided between this task, the demands of the Edinburgh Review, and politics. He was elected for Edin., for which he sat until 1847, when he was thrown out on the Maynooth question, and from 1839-41 was Sec. for War. The Lays of Ancient Rome were published in 1842, and a collection of his essays in The Edinburgh the following year. In 1846 he joined the government of Lord John Russell as Paymaster-General, an office with light duties, his retirement from which, however, followed the loss of his seat in the next year. He was now finally set free for his great work, which became thenceforth the leading interest of his life. The first and second vols. appeared in 1848, and were received with extraordinary applause. In 1852 he was offered, but declined, a seat in the coalition government of Lord Aberdeen, accepting, however, the seat in Parliament which Edin., now repentant, gave him unsolicited.
His health began about this time to show symptoms of failure, and he spoke in the House only once or twice. In 1855 the third and fourth vols. of the History came out, and meeting with a success both at home and in America unprecedented in the case of an historical work, were translated into various foreign languages. In 1857 Macaulay was raised to the Peerage, a distinction which he appreciated and enjoyed. His last years were spent at Holly Lodge, Kensington, in comparative retirement, and there he died on December 28, 1859. Though never married, Macaulay was a man of the warmest family affections. Outside of his family he was a steady friend and a generous opponent, disinterested and honourable in his public life. Possessed of an astonishing memory, knowledge of vast extent, and an unfailing flow of ready and effective speech, he shone alike as a parliamentary orator and a conversationalist. In his writings he spared no pains in the collection and arrangement of his materials, and he was incapable of deliberate unfairness. Nevertheless, his mind was strongly cast in the mould of the orator and the pleader: and the vivid contrasts, antitheses, and even paradoxes which were his natural forms of expression do not always tend to secure a judicial view of the matter in hand. Consequently he has been accused by some critics of party-spirit, inaccuracy, and prejudice. He has not often, however, been found mistaken on any important matter of fact, and in what he avowedly set himself to do, namely, to give a living picture of the period which he dealt with, he has been triumphantly successful. Unfortunately, strength and life failed before his great design was completed. He is probably most widely known by his Essays, which retain an extraordinary popularity.
Available on Amazon: