Abraham Lincoln on Postage Stamps
Abraham Lincoln has appeared on a great number of postage stamps, primarily (but not exclusively) those issued by the United States. Indeed, when we first started collecting stamps, the 4-cent purple Lincoln stamp was the postage stamp one encountered most frequently. Nor was this the only 4-cent Lincoln postage stamp issued by the US Post Office.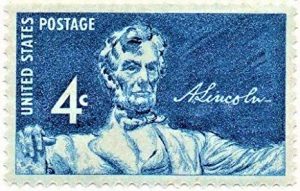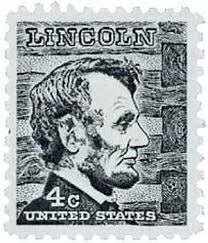 The purpose of this short essay is not to catalogue all the instances of Abraham Lincoln's image on a postage stamp – though it would be an interesting endeavor – but to call attention to Abraham Lincoln postage stamps issued by the USPS in 2009.
The information below is taken directly from a USPS press release, as are the stamp images:
The 200th anniversary of Abraham Lincoln's (1809-1865) birth will be recognized on four commemorative stamps Feb. 9, in Springfield, IL. The 10 a.m. dedication ceremony takes place at the Old State Capitol Historic Site, Representative Hall, #1 Old State Capitol Plaza, in Springfield.
The stamp art was created by Mark Summers, who is noted for his scratchboard technique, a style distinguished by a dense network of lines etched with exquisite precision. Each stamp features a different aspect of Lincoln's life. Summers worked under the art direction of Richard Sheaff of Scottsdale, AZ.
.
Rail-Splitter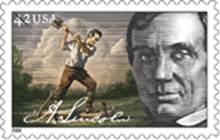 The stamp showing Lincoln as a rail-splitter includes the earliest-known photograph of Lincoln, dated 1846, by N. H. Shepherd, and depicts Lincoln as a youth splitting a log for a rail fence on what was then the American frontier. When he was a candidate for president in 1860, the Republican Party used the image of Lincoln as a "rail-splitter" to enhance his appeal to the workingman.
Lawyer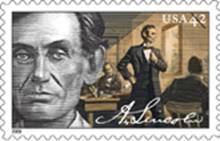 The stamp featuring Lincoln as a lawyer includes a photograph of Lincoln, dated May 7, 1858, by Abraham Byers, and shows Lincoln in a courtroom in Illinois, the state where he was a practicing attorney for nearly 25 years.
Politician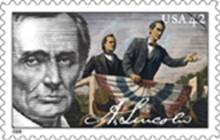 The stamp of Lincoln as a politician includes a Feb. 27, 1860, photograph of Lincoln by Mathew Brady, and shows Lincoln debating Stephen A. Douglas during their 1858 campaign for a U.S. Senate seat from Illinois.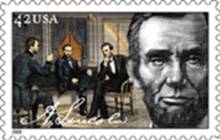 President
The stamp featuring Lincoln as president, includes a Nov. 8, 1863, photograph of Lincoln by Alexander Gardner, and depicts Lincoln conferring with generals Ulysses S. Grant and William T. Sherman toward the end of the Civil War. The depiction is based on "The Peacemakers" (1868), a painting by George P. A. Healy.
Looking for stamps for your collection? Be sure to check out Sonora Stamp Shop.