NRA Firearms Classic Library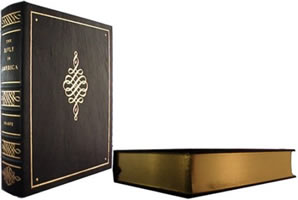 The National Rifle Association (NRA) Firearms Classic Library is a collection of previously issued books about firearms, bound in attractive ribbed leather bindings with gilt decoration and with all edges gilt.
To the best of our knowledge, the earliest books in the series were issued in 1995. I am grateful to reader Dick L, who recently provided me with an up-to-date list of books which he obtained from Palladium Press.
Collecting the various volumes is an interesting endeavor, especially (and obviously) if one has an interest in firearms. The books are of various sizes, since the original works were not re-typeset. The majority of volumes were originally issued at something like $39.95 per volume. Many can be found in very good condition today for between $25 and $50, though some of the books in the series are becoming scarce and command higher prices.
FIREARMS CLASSICS LIBRARY
Book #
TITLE
AUTHOR
1
The Rifle in America
Philip B. Sharpe
2
Guns of the Old West
Charles Edward Chapel
3
The Gun and Its Development
W.W. Greener
4
African Rifles and Cartridges
John Taylor
5
Shotguns by Keith
Elmer Keith
6
Textbook of Pistols and Revolvers
Major Julian S. Hatcher
7
Firearms of the Confederacy
Claud E. Fuller & Richard D. Steuart
8
Gunsmithing
Roy F. Dunlap
9
Firearms Curiosa
Lewis Winant
10
Hatcher's Notebook (Revised)
Major Julian S. Hatcher
11
The Muzzle-Loading Cap Lock Rifle
Ned H. Roberts
12
Sixguns and Bullseyes
William Reichenbach
13
The Bullets Flight
F. W. Mann
14
The Book of the Springfield
Edward C. Crossman
15
Smith and Wesson Handguns
Roy C. McHenry, Walter F. Roper
16
The Kentucky Rifle
G.W. Dillin
17
NRA Book of Small Arms Vol. I–Pistols & Revolvers
Walter H.B. Smith
18
NRA Book of Small Arms Vol. II–Rifles
Walter H.B. Smith
19
A History of the Colt Revolver
Charles T. Haven & Frank A. Belden
20
With British Snipers to the Reich
Clifford Shore
21
Ordnance Went Up Front
Roy F. Dunlap
22
Textbook of Firearms Investigation
Julian Hatcher
23
Military and Sport Rifle Shooting
Edward C. Crossman
24
Gun Collecting
Charles Edward Chapel
25
English Pistols & Revolvers
John Nigel George
26
.22 Caliber Rifle Shooting
Charles Singer Landis
27
Walther Pistols and Mauser Rifles
Walter H.B. Smith
28
The Hunting Rifle
Townsend Whelen
29
English Guns & Rifles
John Nigel George
30
Textbook of Automatic Pistols
R.K. Wilson
31
A Rifleman Went to War
Herbert W. McBride
32
The American Shotgun
Charles Askins
33
Small Arms Design and Ballistics Volume I
Townsend Whelen
34
Small Arms Design and Ballistics Volume II
Townsend Whelen
35
Firearms in American History, Vol I
Charles Winthrop Sawyer
36
Firearms in American History, Vol II
Charles Winthrop Sawyer
37
Firearms in American History, Vol III
Charles Winthrop Sawyer
38
Mannlicher Rifles and Pistols
Walter H.B. Smith
39
Rifles and Rifle Shooting
Charles Askins
40
Keith's Rifles for Large Game
Elmer Keith
41
Big Game Rifles & Cartridges and Sixgun Cartridges
Elmer Keith
42
The Muzzle-Loading Rifle–Then and Now
Walter M. Cline
43
Pepperbox Firearms
Lewis Winant
44
The Art of Handgun Shooting
Charles Askins
45
Shots Fired in Anger
Lt. Col John B. George
46
Modern American Pistols and Revolvers
Arthur C. Gould
47
Modern American Rifles
Arthur C. Gould
48
Identification of Firearms and Forensic Ballistics
Gerald Burrard
49
Modern Gunsmithing
Clyde Baker
50
.22 Caliber Varmint Rifle
Charles S. Landis
51
CommonSense Shotgun Shooting
Fred Etchen
52
Himmelwright Pistol and Revolver Shooting
Himmelwright
53
Triggernometry
Eugene Cunningham
54
Handloader's Manual
Earl Naramore
55
Small Bore Rifle Shooting
Edward C. Crossman
56
Amateur Gunscraftsman
James Virgil Howe
57
The Modern Pistol
Walter Winans
58
Sporting Firearms
Horace Kephart
59
Practical Dope on the .22
F. C. Ness
60
Practical Dope on the Big Bores
F. C. Ness
61
The American Rifle
Townsend Whelen
62
Riflecraft Shooters Guide
Charles Singer Landis
63
Experiments of a Handgunner
Walter Roper
64
Book of Pistols and Revolvers
Hugh B.C. Pollard
65
Telescopic Rifle Sights
Townsend Whelen
66
Rifles and Machine Guns
Melvin Johnson
67
Modern Shotguns and Loads
Charles Askins
68
Truesdell's The Rifle
S. R. Truesdell
69
Suggestions to Military Riflemen
Whelen/Greener
70
Sporting Rifles/Rifle Shooting
John Caswell
71
Why Not Load Your Own!
Townsend Whelen
72
History of Firearms
Hugh B.C. Pollard
73
From Flint Lock to M1
Joseph W. Shields, Jr.
74
Modern Rifle Shooting from the American Standpoint
W. G. Hudson
75
Ultimate in Rifle Precision
Townsend Whelen
76
Rimfire Rifleman
Edward Brown
77
Bullet's Flight Reprint
F. W. Mann
78
Deane's Manual of Firearms
John Deane
79
The Book of the Garand
Julian S. Hatcher
80
Sixguns and Bullseyes Reprint
William Reichenbach
81
Ropers Pistols/Revolvers
Walter F. Roper
82
Instructions to Young Marksmen
Chapman/Farrow
83
The Rifle and How to Use It
Hans Busk
84
Wing and Trap Shooting
Charles Askins
85
The American Shotgun Reprint
Charles Askins
86
Elementary Gunsmithing
Perry D. Frazer
87
Smith and Wesson Reprint
Roy C. McHenry, Walter F. Roper
88
Wilderness Hunter
Theodore Roosevelt
89
Guns/Gunning
Capt Paul A. Curtis
90
A Forgotten Heritage
Harry P. Davis
91
Mastering the Rifle & Pistol and Revolver
Morris Fisher
92
For Permanent Victory
Melvin M Johnson, Jr/Charles T Haven
93
Rifles and Shotguns
Warren H. Miller
94
Hints to Riflemen
H. W. S. Cleveland
95
The Art of Shooting
H. St. John Halford
96
Complete Guide to Handloading Parts One/Two
Philip B. Sharpe
97
Complete Guide to Handloading Part Three
Philip B. Sharpe
98
Shooting
J. H. Fitzgerald
99
America Breech Loading
Charles B. Norton
100
Sport and Travel
Frederick Courteney Selous
101
Purdey Shotgun
T. D. S. Purdey/Capt J.A. Purdey
102
Gun and Its Development – reprint
W. W. Greener
103
Textbook of Pistols and Revolvers – reprint
Major Julian S. Hatcher
104
Sniping in France
Major H. Hesketh-Prichard
105
The Gunsmith's Manual
J.P. Steele, Wm B Harrison
106
The Identification of Firearms
Jack Disbrow Gunther/Charles O. Gunther
107
Fast and Fancy Revolver Shooting
Ed McGivern
108
U.S, Martial Pistols
Arcadi Gluckman
109
American Pistol Shooting
Major William D. Frazer
110
Automatic Arms
Melvin M. Johnson, Jr./Charles T. Haven
111
Advanced Gunsmithing
W. F. Vickery
112
Our Arms And Weapons
James E. Hicks
113
Crack Shot
Edward C, Barber
114
Small Wars Manual I
US Marine Corps
115
Small Wars Manual II
US Marine Corps
116
Complete Guide to Gunsmithing
Charles Edward Chapel
117
Weapons of World War II
G. M. Barnes
118
English Pistols & Revolvers – reprint
John Nigel George
119
Sporting Firearms in Use Today
Paul A. Curtis, Jr.
120
Amateur Gunsmithing
Townsend Whelen
121
Fieldcraft, Sniping, Intelligence
Neville A. D. Armstrong
122
Gunsmithing Simplified
Harold E. MacFarland
123
Professional Gunsmithing
Walter J. Howe
124
The Luger Pistol
Fred A. Datig
125
Practical Manual of Guns
Maurice H. Decker
126
Gun Care and Repair
Charles Edward Chapel
127
A Smaill Arms Manual
Charles T. Haven
128
Outdoor Pastimes
Theodore Roosevelt
129
A Rifle in War
Henry Eames
130
Firearms, Traps and Tools of the Mtn Men
Carl Russell
131
Machine Guns
Hatcher, Wilhelm, Malony
132
American Guns in the War with Germany
Ed Farrow
133
The Strenuous Life
Theodore Roosevelt