Courtship and Matrimony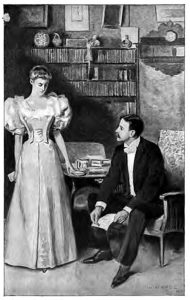 Advice to both parties at the outset
Introduction to the Lady's Family
Restrictions imposed by Etiquette
What the Lady should observe in early Courtship
What the Suitor should observe
Etiquette as to Presents
The Proposal
Mode of Refusal when not approved
Conduct to be observed by a Rejected Suitor
Refusal by the Lady's Parents or Guardians
III.—ETIQUETTE OF AN ENGAGEMENT.
Demeanour of the Betrothed Pair
Should a Courtship be long or short?
IV.—PRELIMINARY ETIQUETTE OF A WEDDING.
Fixing the Day
How to be Married: by Banns, Licence, &c.
The Trousseau
Duties to be attended to by the Bridegroom
Who should be asked to the Wedding
Bridesmaids and Bridegroom's-men, Duties of
Costume of Bride, Bridesmaids, and Bridegroom
Arrival at the Church
The Marriage Ceremonial
Registry of the Marriage
Return Home and Wedding Breakfast
Departure for the Honeymoon
VI.—ETIQUETTE AFTER THE WEDDING.
Wedding Cards: Modern Practice of "No Cards"
Reception and Return of Wedding Visits
VII. –PRACTICAL ADVICE TO A NEWLY-MARRIED COUPLE