Edmund Burke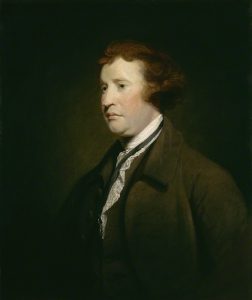 BURKE, EDMUND (1729-1797). —Statesman, orator, and political philosopher, was the s. of an attorney in Dublin, where he was born. His father was a Protestant, but his mother, whose maiden name was Nagle, was a Roman Catholic. He received his early ed. at a Quaker school at Ballitore, and in 1743 proceeded to Trinity Coll., Dublin, where he graduated in 1748. His f. wished him to study for the law, and with this object he, in 1750, went to London and entered the Middle Temple. He, however, disliked law and spent more time in literary pursuits than in legal study. In 1756 his first pub. work appeared, A Vindication of Natural Society, a satire on the views of Bolingbroke, but so close was the imitation of that writer's style, and so grave the irony, that its point as a satire was largely missed. In the same year he pub. his famous treatise On the Sublime and Beautiful, which attracted universal attention, and three years later (1759) he projected with Dodsley the publisher The Annual Register, for which he continued to write the yearly Survey of Events until 1788. About the same time he was introduced to W.G. Hamilton (known as Single-speech H.) then about to go to Ireland as Chief Sec., and accompanied him in the capacity of private sec., in which he remained for three years.
In 1765 he became private sec. to the Marquis of Rockingham, the Whig statesman, then Prime Minister, who became his fast friend until his death. At the same time he entered Parliament as member for Wendover, and began his brilliant career as an orator and philosophic statesman. The first great subject in which he interested himself was the controversy with the American colonies, which soon developed into war and ultimate separation, and in 1769 he pub., in reply to G. Grenville, his pamphlet on The Present State of the Nation. In the same year he purchased the small estate of Gregories near Beaconsfield. His speeches and writings had now made him famous, and among other effects had brought about the suggestion that he was the author of the Letters of Junius. It was also about this time that he became one of the circle which, including Goldsmith, Garrick, etc., had Johnson for its central luminary. In 1770 appeared Thoughts on the Causes of the Present Discontent, directed against the growth of the Royal power on the one hand, and of faction on the other.
In 1774 he was elected member for Bristol, and continued so until 1780, when differences with his constituency on the questions of Irish trade and Catholic emancipation led to his resignation, after which he sat for Malton until his final retirement from public life. Under the administration of Lord North (1770-1782) the American war went on from bad to worse, and it was in part owing to the splendid oratorical efforts of B. that it was at last brought to an end. To this period belong two of his most brilliant performances, his speech on Conciliation with America (1775), and his Letter to the Sheriffs of Bristol (1777). The fall of North led to Rockingham being recalled to power, which, however, he held for a few months only, dying in the end of 1782, during which period B. held the office of Paymaster of the Forces, and was made a Privy Councillor. Thereafter he committed the great error of his political life in supporting Fox in his coalition with North, one of the most flagitious, as it was to those concerned in it, one of the most fatal, political acts in our parliamentary history. Under this unhappy combination he continued to hold during its brief existence the office of Paymaster, and distinguished himself in connection with Fox's India Bill. The coalition fell in 1783, and was succeeded by the long administration of Pitt, which lasted until 1801. B. was accordingly for the remainder of his political life in opposition. In 1785 he made his great speech on The Nabob of Arcot's Debts, and in the next year (1786) he moved for papers in regard to the Indian government of Warren Hastings, the consequence of which was the impeachment of that statesman, which, beginning in 1787, lasted until 1794, and of which B. was the leading promoter.
Meanwhile, the events in France were in progress which led to the Revolution, and culminated in the death of the King and Queen. By these B. was profoundly moved, and his Reflections on the French Revolution (1790) electrified England, and even Europe. Its success was enormous. The same events and the differences which arose regarding them in the Whig party led to its break up, to the rupture of B's friendship with Fox, and to his Appeal from the New to the Old Whigs. In 1794 a terrible blow fell upon him in the loss of his son Richard, to whom he was tenderly attached, and in whom he saw signs of promise, which were not patent to others, and which in fact appear to have been non-existent. In the same year the Hastings trial came to an end. B. felt that his work was done and indeed that he was worn out; and he took leave of Parliament. The King, whose favour he had gained by his attitude on the French Revolution, wished to make him Lord Beaconsfield, but the death of his son had deprived such an honour of all its attractions, and the only reward he would accept was a pension of £2500. Even this modest reward for services so transcendent was attacked by the Duke of Bedford, to whom B. made a crushing reply in the Letter to a Noble Lord (1796). His last pub. was the Letter on a Regicide Peace (1796), called forth by negotiations for peace with France. When it appeared the author was dead.
Burke was one of the greatest political thinkers whom England has produced, and all his writings, like his speeches, are characterised by the welding together of knowledge, thought, and feeling. Unlike most orators he is more successful as a writer than as a speaker. He rose too far above the heads of his audience, which the continued splendour of his declamation, his inordinate copiousness, and his excessive vehemence, often passing into fury, at length wearied, and even disgusted: but in his writings are found some of the grandest examples of a fervid and richly elaborated eloquence. Though he was never admitted to the Cabinet, he guided and influenced largely the policy of his party, while by his efforts in the direction of economy and order in administration at home, and on behalf of kindly and just government in India, as well as by his contributions to political philosophy, he laid his country and indeed the world under lasting obligations.
There are Lives by Prior (1824 and 1854); J. Morley (1867), and various ed. of his works have appeared. Select Works by Payne (3 vols. 1874-78).
SUMMARY.—B. 1729, ed. Trinity Coll., Dublin, enters Middle Temple 1750, pub. treatise On the Sublime and Beautiful 1756, became friend of Rockingham 1765, enters Parliament and engages in American controversy, pub. speech on Conciliation with America 1775, Paymaster of Forces and P.C. 1782, joined coalition of Fox and North 1782, leads in prosecution of W. Hastings 1787-94, pub. Reflections on French Revolution 1790 and breaks with Fox party, pub. Letter on a Regicide Peace 1796, d. 1797.