Bicycle Playing Cards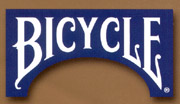 Bicycle Playing Cards are one of the oldest – they've been around since 1885 – and most recognizable brands of playing cards sold in the United States. They are currently manufactured by the United States Playing Card Company.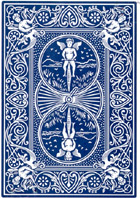 Shown here is the traditional "rider back" from a deck of Bicycle playing cards, a double-ended design showing a cherub riding a bicycle. This image is taken from a deck of Bicycle Rider Back 48F Pinochle Braille Playing Cards. The design is the same on Bicycle Rider Back 88F Jumbo Index Standard Playing Cards. Both decks are manufactured in either blue or red.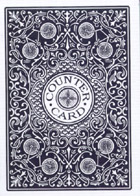 Shown here is a more modern version of a bicycle design from a two-deck set of Bicycle Euchre playing cards. (If you're wondering what a Counter Card is, you need to learn to play Euchre!) As is stated on the package, "For over a century Bicycle has created new card back designs reflecting the changes in bicycles. Mountain BikeTM is the latest design in the Bicycle tradition."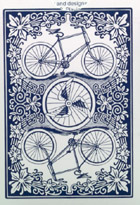 Another up-to-date bicycle design is this one, found on the back of a deck of Bicycle playing cards designed for six-handed Five Hundred. (Actually, this scan is from the box, hence the break in the design at top.) This design is notable both for the very nice bicycle – check out those fat tires! – and for the winged wheel design in the center. It's this winged wheel that keeps the design from being technically considered double-ended, in that the image is not exactly the same when looked at either upside-down or right-side-up. What's the big deal about that? Well, if you do magic tricks with cards, it can be a very big deal indeed!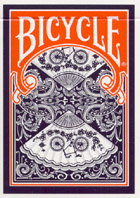 Continuing our transition from card back designs to box designs, here's a design on a box of Bicycle playing cards I truly love! It's from a two-deck set of Canasta playing cards, and the modern bicycle on an old-fashioned fan is a subtle way of coordinating the bicycle theme with a card game that has a South American heritage. This is called the Bicycle Fan BackTM Design.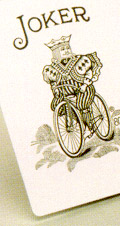 Of course, bicycles don't always have to show up on the backs of playing cards. The well-known Bicycle Joker depicts a King (which King, you might ask, but of course, on the Joker, this King belongs to no particular suit) riding a bicycle. His bicycle is a relatively non-modern affair, and no doubt will remain so.

In celebration of the Millennium, the United States Playing Card Company issued Bicycle 2000, a limited edition of two decks of playing cards in a tin. The design of the cards and of the tin itself are quite nice. The playing card faces feature significant events, inventions and people from history, and the back design is taken from an early design.
Bicycle Playing Cards, Partial Listing
The following is a list of Bicycle playing cards and associated products that are available for purchase.
Bicycle 808 Poker Playing Cards
Bicycle Card Games

Bicycle Canasta
Bicycle Euchre
Bicycle Pinochle
Bicycle Poker – Dealer's Choice
Bicycle Rummy
Bicycle Spades

Bicycle Five Hundred Card Game
Bicycle Jumbo Index Playing Cards
Bicycle Pinochle Playing Cards
Hesslers Playing Cards – a four-color deck
Miniature Bicycle Playing Cards
Bicycle Bridge Size Playing Cards
Big Bicycle Playing Cards
Pokeno (Po-Ke-No)
Pokeno TOO
Special Edition Bicycle Playing Card Tins, Partial Listing
Bicycle "The Black Deck" Playing Cards Magic 4 Gaff Magic Maker
Bicycle Clear Playing Cards
Bicycle Pink Breast Cancer Ribbon Playing Cards
Bicycle Pro PokerPeek Playing Cards
Bicycle Rider Back Green Deck with Gaff Cards for Magic
Bicycle Rider Back Ice Blue Deck with Gaff Cards for Magic
Bicycle Silver Playing Cards
Bicycle Tragic Royalty Playing Cards Glowing Back 808
Bicycle Vintage Design Safety Back 1892-1943
Bicycle Yellow Deck Playing Cards
Bicycle Books
Bicycle Official Rules of Card Games – out of print
Complete Win at Spades
Poker Is the Name of the Game – out of print
Dice Games
Casino Dice Cup
Regulation Dice
Poker Dice