Membership in The American Philatelic Society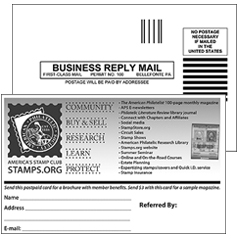 If you're interested in becoming a member of the APS – I'm a member, and I think it's an excellent organization – just send your name and address to daniel@akarius.com and I will mail you a prepaid card to complete.
Here's a list of some of the benefits members receive:
• The American Philatelist – The world's premier stamp magazine, issued monthly
• APEX Expertizing Service – Offers opinions on the genuineness of all stamps
• American Philatelic Research Library – Book loans, copy service, reference assistance
• APS Stamp Insurance Plan – The best and most comprehensive coverage available
• Sales Division Circuits – A very popular service, very much like stamps on approval at very good prices, and really an excellent way to build your collection
• Education Programs – Summer Seminar, Youth Programs, Internet and Correspondence Courses
• Stamp Store – Buy/Sell online via a members-only Internet Sales site
• Quick ID – Identification of philatelic material
• Marketplace – Philatelic literature at discounts to members (I've purchased numerous items)
• Mentor Service – Assistance by other members
• Translation Service – Almost anything philatelic can be translated
• Code of Ethics/Dispute Resolution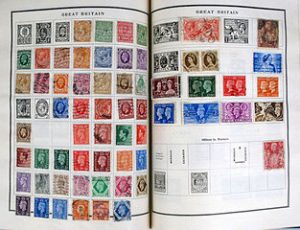 Looking for stamps for your collection? Be sure to check out Sonora Stamp Shop.