When you are deciding to purchase a classical music CD, what do you look for? The music being performed, certainly. The performer, usually. And what about the label?
The label on a classical recording is as important as the label on a bottle of wine, and just as important. It gives a quick indication of quality and of price, and may include other information as well. The label L'Oiseau-Lyre, for example, only offers recordings of music played on period instruments.
I've listed a number of classical music labels below, in alphabetical order, with brief comments. Criticisms are bound to be general, but should prove somewhat helpful. I've also included examples of a few of the label's recordings; these represent a few of the label's CD's that I can personally recommend. Please feel free to share your thoughts with me on this subject.

BIS. Stephen Hough has recorded on BIS - what more can one ask for?
J. S. Bach-Oboe Concertos
Music for French Horn
Romance
CBS Records Masterworks. CBS was acquired by Sony, and CBS Records Masterworks subsequently became Sony Classical Records, which is listed below.
Delos. My personal experience with Delos recordings has generally been disappointing. Carol Rosenberger's Night Moods can serve as an example. The recording succeeds in converting works by Chopin, Liszt and others into lifeless background piano music - no mean feat, I grant you, but also no praiseworthy accomplishment. On the other hand, I've not listened to Delos recordings in a long time, so my advice is, simply, that one should experiment on one's own. And I do like the Chamber Music Society of Lincoln Center very much!
Dvorák Serenade — Chamber Music Society of Lincoln Center
Rachmaninoff: Sonata 2, Etudes — Browning
Deutsche Grammophon. In existence since 1898. I've never been disappointed with a Deutsche Grammophon recording.
Deutsche Grammophon Centenary Collection, 1948-1957 (Box Set)
Deutsche Grammophon: Centenary Collection, 1968-1977 (Box Set)
Beethoven: Symphonien Nos. 5 & 7 / Kleiber, Vienna Philharmonic Orchestra
Dvorák: Cello Concerto; Tchaikowsky / Karajan, Rostropovich
Mozart: Symphonies Nos. 35-41
Tchaikovsky: Symphonies no 4, 5, & 6 / Karajan, Berlin PO
Deutsche Grammophon - Musikfest. No idea what the Musikfest is supposed to signify, as far as being different from Deutsche Grammophon proper - perhaps someone will enlighten me.
Deutsche Harmonia Mundi. Fine.
Disques Pierre Verany. You may never run across this French label, but feel confident that it is a good one.
Dorian Recordings. Dorian is based, surprisingly, in Troy, New York. Nicknamed "The Collar City," Troy, along with neighboring Schenectady ("The Electric City") and Albany ("The Dismal City"), boasts little in the way of cultural endeavors, so one must think well of the Dorian people for setting up shop there. Their recordings run the gamut from odd to oddly worthwhile. Quirky, one might say.
Bach: Secular Cantatas / Röschmann, Saint-Celais, McMillan; Les Violons du Roy
The Cantorial Voice Of The 'Cello
The Mad Buckgoat - Ancient Music of Ireland
EMI. Also "EMI Classics." Ranging from good to great.
Christopher Parkening - The Great Recordings ~ By America's Preeminent Guitar Virtuoso
Horn Concertos
Jacqueline du Pré - a lasting inspiration
Ermitage. Manufactured in Bologna, Italy. Classic performances, like Wilhelm Backhaus performing Beethoven's Piano Concerto No. 5 with Carl Schuricht conducting the RTSI Orchestra. On this particular CD, the liner notes in English make sense, and are appropriate - a nostalgic remembrance of hearing Backhaus perform the "Emperor" Concerto by Piero Rattalino. Oddly (and with no logical reason that I can detect), an excerpt from this remembrance also comprises the liner notes for a different Ermitage CD featuring Clara Haskil and Arthur Grumiaux performing works by Beethoven and Mozart. Putting the matter simply, Ermitage's packaging for English-speaking audiences needs work.
Harmonia Mundi. French. (But also see Deutsche Harmonia Mundi.) Excellent. Great music, great quality, great packaging. I could give many examples of great Harmonia Mundi CDs: Philippe Bernold playing Debussy is one.
Bach - Solo & Double Violin Concertos / Manze · Podger · AAM · Manze
Chopin: Impromptus / Fantasy on Polish Airs
The Harmonia Mundi Bach Edition (Sampler)/ Herreweghe, Jacobs, et al.
Koch International Classics.
Koch Schwann Aulos. Fine.
Shostakovich Symphony No.11
Virtuoso Viola Concertos
The Well-Tempered Opera
L'Oiseau-Lyre. This is, I believe, a Decca label. According to them, "The L'Oiseau-Lyre series presents performances of music from the Medieval to the Romantic periods on original instruments or authentic copies, based on the most recent research into the original texts, instrumentation and performing styles of each period." Christopher Hogwood, conducting The Academy of Ancient Music, has appeared on this label.
Editions de L'Oiseau-Lyre... The Original Sound
London. Fine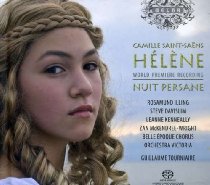 Melba. I was unaware of this Australian label but Dennis, a reader, was kind enough to bring it to my attention. In his words, "There's a small label here called 'Melba Recordings' which I think should be added to your list. A small catalogue but with some outstanding recordings, including the Ring which Gramophone reviewed & called 'the best sounding Ring bar none'. Apart from brilliant sound, there's a lot of unique repertoire." Right he is, and lovers of classical rarities done well should investigate. A few examples are listed below:
The Galant Bassoon
Saint-Saëns: Hélène | Nuit Persane
Turbulent Heart
Musical Heritage Society. The Musical Heritage Society is what we called, in the good old days, a "record club." That probably doesn't sound encouraging, but their recordings are fine now, and occasionally really excellent. Packaging artwork can sometimes be poor, but liner notes are usually informative. Note that thier CDs have little in the way of collectability, similar to book club editions.
Naxos. Naxos started out as a budget label - don't let that deter you. They have a huge catalogue, and the quality of their recordings is usually very good. You won't often find high-profile performers on Naxos, but you will find a great number of worthwhile works, some of which are difficult to find elsewhere.
Brahms: Hungarian Dances
Romantic Music for Flute & Harp
Stravinsky: Firebird; The Rite of Spring
Tchaikovsky: Serenade for Strings
Nimbus. British, fine recordings.
Beethoven: Complete Piano Sonatas
Beethoven: Complete String Quartets
Mozart: Die Zauberflote (The Magic Flute - Prima Voce Series) / Beecham, Strienz et al
Philips. Fine, often wonderful.
Bach: Brandenburg Concertos (Complete)
Chopin: The Complete Nocturnes And Impromptus
Gershwin: Rhapsody in Blue - Piano Concerto in F - An American in Paris
Mozart for Meditation: Quiet Music for Quiet Times
RCA. Also RCA Red Seal. Also known as "RCA Victor Red Seal." Important musicians, including Emanuel Ax, James Galway, Van Cliburn, Jascha Heifetz. Also RCA Victrola.
Borodin: Symphony No.2/In The Steppes Of Central Asia/Prince Igor
Tchaikovsky: Concerto No. 1/ Rachmaninoff: Concerto No. 2
Verdi: I Vespri Siciliani
Sony Classical. High quality - a respected name. Big name artists, and there's something to be said for that.
Romance of the Violin
Vivaldi's Cello
Yo-Yo Ma - Simply Baroque II ~ Bach & Boccherini / ABO, Koopman
Of Related Interest
Classical Music - Recommended CD's