Gypsy Witch Fortune Telling Playing Cards have been around since 1904, and used to be found in every variety store across America.  With the exception of packaging changes, the currently-available deck is little changed from its ancestors.
According to The Encyclopedia of American Playing Cards:
"Gypsy Witch celebrated FORTUNE TELLING cards by Madame Lenormand, copyrighted 1903 by Frederick J. Drake Co., first published by Home Game Co., in 1904. This deck has been published continuously and is currently being made by U.S. Playing Card Co., using the same faces. The recent edition has a witch on the backs replacing the original river scene."
Here's a view of the current back design:


And here's a look at the box from an older Gypsy Witch deck: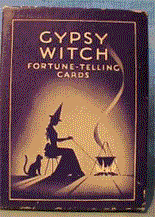 Each card has an inset picture of a playing card, a second image, and a text giving the meaning of the card.  Instructions are included with the deck.
As noted in the description above, the current Gypsy Witch Fortune Telling Cards are manufactured by the US Playing Card Co.